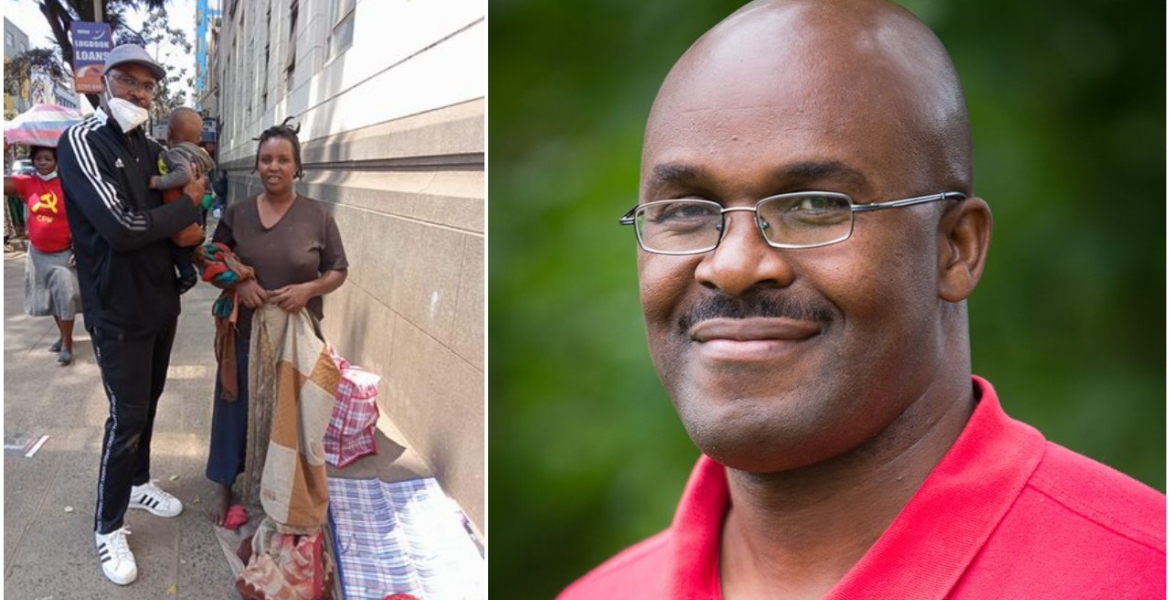 US-based former Kenyan footballer Vincent Kwarula has come to the rescue of a homeless family in Nairobi.
Kwarula, who was in Kenya to visit his family, bumped into Ann Wanjiru Muchina and her two-month-old son in the streets of Nairobi. Wanjiru, 32, was begging for money and food from passers-by along Ronald Ngala Street within Nairobi CBD when Kwarula spotted her.
"It is the sight of the infant crying that made me take interest. He was probably hungry," Kwarula told Nation.
It is after a conversation with the woman that Kwarula learned that she was a homeless mother of eight. Touched by her plight, Kwarula decided to take Wanjiru and her kids off the streets and moved them to a house in Githurai where he paid a year's rent.
Speaking to Nation, Wanjiru said she has been living in the streets for the past five months after she was kicked out of their home in Molo, Nakuru County following the death of her mother.
"My uncles chased me from our home in Molo when my mother died. We have an active succession case involving our family land at the Nakuru Law Courts. My only brother disappeared and my husband, who was the father of five of my children, died last year. Some of my children are in a children's home," Wanjiru said.
"I'm consistently harassed by the county government askaris; they beat us up, demand or steal our money. Some street children abuse drugs in the presence of my children."
Kwarula, a former Harambee Stars player, lives in New York where he works as a physical education teacher and coach at a renowned football academy.
He quit football aged 30 and moved to the US where he graduated with a bachelor of business administration degree from Southern Connecticut State University and a Master's degree in the same field at the Manhattan Bille College. He is the founder of Kwarula Society for Kenyan Education. 
"Education is more important than anything else, which is why I will ensure these kids go to school. Their mother is also interested in a tailoring course and we will see what we can do," Kwarula said.
"There are very many women on these streets and I cannot explain why I decided to do this to her. But I believe changing her life is the best thing that can happen to them."