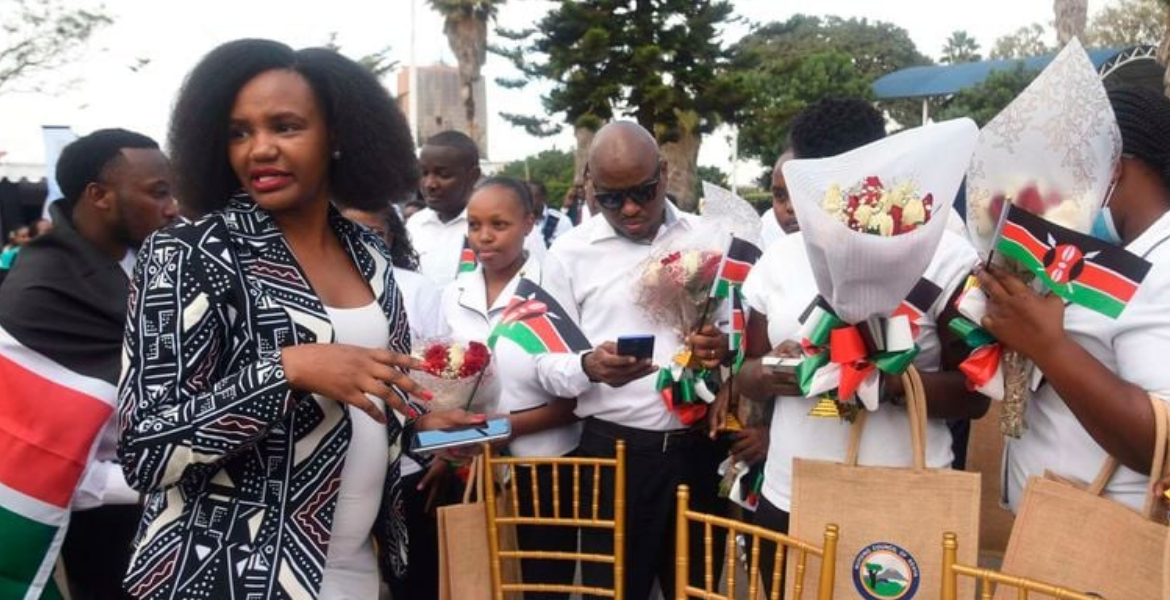 PS State Department for Diaspora Affairs Roseline Njogu With Kenyan Nurses Recruited for Work in the UK
The Ministry of Labour has proposed that all Kenyans working abroad must contribute to a State welfare scheme called the Kenya Migrant Workers Welfare Fund.
The plan aims to extend help to overseas migrant workers in the form of relief packages, medical aid, invalidity benefits, and survivor benefits in the event of demise. Before leaving the country for foreign employment, every migrant worker must register as a member of the fund. Additionally, fees paid by private employment agencies will be directed to the fund. The rate of contribution by each migrant worker will be determined by forthcoming regulations.
If the Diaspora Workers Fund is approved, Kenya will follow the lead of other countries like the Philippines, Sri Lanka, and Pakistan which have similar programs already. Sri Lanka, for example, has an Overseas Workers Welfare Fund that covers all expenses related to assisting the country's migrant workers and their families. This fund offers a mandatory insurance scheme, repatriation costs for migrant workers, scholarships for children, loan schemes with partner banks that cover migrants' re-departure costs and the establishment of self-employment schemes.
A chairman appointed by President William Ruto will lead the board in managing the fund which aims to support the well-being of Kenyan migrant workers. Shem Ochuodho, the global chairman of the Kenya Diaspora Alliance says that many migrant workers would appreciate any effort to support their well-being. The Ministry of Labour approximates that Kenya has almost four million migrant workers, primarily in North America, Europe, the Middle East, the Gulf region, and Australia.
According to the Central Bank of Kenya's survey on diaspora remittances, a vast number of Kenyans leave the country in search of job opportunities or to pursue higher education. Among the most popular destinations for Kenyan migrants are the United States, the United Kingdom, South Africa, Australia, the United Arab Emirates and Canada.